The answer may differ from person to person. But in general…
Also remember that we're holding a special discount right now, so be sure to place your order today before we run out OR stop this promotion.
Bowel Guard is a combination of science-backed digestive enzymes and the world's best "firm poop probiotic" to help manage gas, bloating and bowel movements. You simply take it right before a meal and it helps you break down foods that typically cause stomach pain and bloating.
Here's a list of the actual label so you can see everything in exact detail :)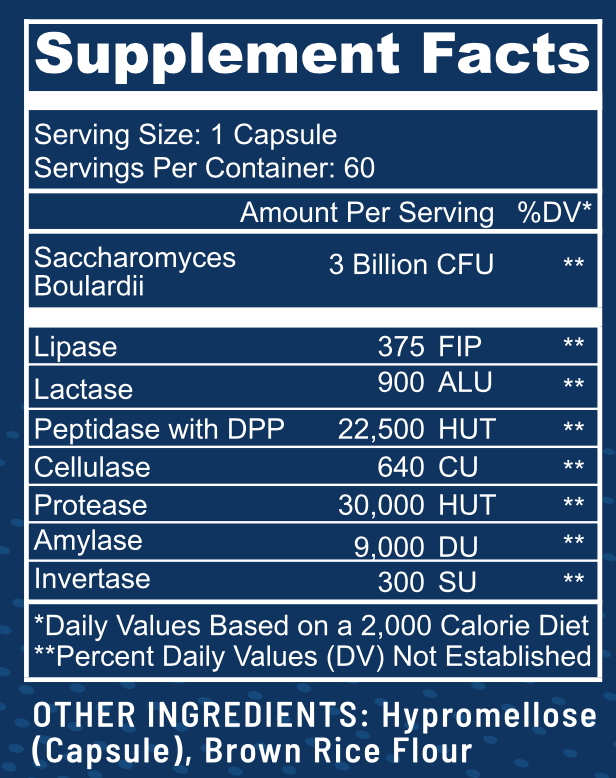 This is different for everyone. Many people notice differences in 2-3 days, while others may take a little longer. Upon ordering you'll receive full instructions on how to maximize your results and what to expect when you start it.
Bowel Guard is sourced from the highest possible ingredients which are rigorously tested for purity and potency in state of the art facilities. It is manufactured in the USA and GMP certified using safe ingredients.
If you are concerned about Bowel Guard interacting with your medication, please consult your doctor. Show them the list of ingredients and ask how it fits into your current treatment.
Digestive enzymes are considered very safe, especially when it comes to allergies. It is also free of sugar, artificial sweeteners, flavors, colors, preservatives, gluten, dairy, and soy. However, it is manufactured in a facility that processes milk, eggs, wheat, and soy. If you have any concerns, please consult with your physician.
We will ship your order directly to your home or office using FedEx, USPS, or UPS. Customers in the United States and Canada can expect their orders within 5 to 10 business days. International orders typically take 10 to 15 business days (plus customs clearance times).
Of course! We use a 256-bit secure ordering server where 100% of your data is encrypted, safe, and secure. Our secure shopping cart is verified by numerous 3rd-party security verification systems, including McAfee Secure, the leader in security scanning. So, you can rest assured that your information is 100% safe and secure at all times.
Go ahead and choose the best option for you by clicking the button below. It will take you back to the ordering section so you can choose which quantity you would like. Remember, you have nothing to lose with our one-year money-back guarantee. So if you feel Bowel Guard is not right for you, we'll give you a full refund. Plus, if you order right now, you'll enjoy a 51% discount and free shipping.