Think about it…
There are DOZENS of different diets out there...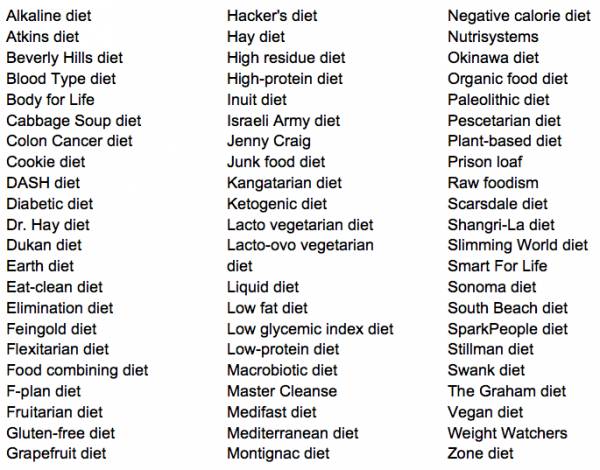 Keto…




Paleo…




Low carb/high fat…




High carb/low fat…




Bulletproof…




High protein…




Intermittent fasting...




Vegan…
Mediterranean…




And so many more...
Millions of people start these diets every year…
And over 95% of them FAIL.
But why is that?
Well I can tell you this...
It's NOT because people are bad at dieting…
And it's NOT because these diets don't work…
It's Because Your Body Is Being Hijacked




To Store Excess Fat…
Making it nearly impossible to lose weight REGARDLESS of what diet you try.
And if you've failed diet after diet even though you were doing everything right…
If you've tried all sorts of weird exercise programs, pushing yourself to exhaustion…

If you've reduced calories and the scale never budged…

If you've hit plateau's where your body REFUSED to lose any more weight…
Then what I'm about to tell you will finally explain why.
The good news is…
NONE Of This Is Your Fault...
You're probably doing everything right...
But this one issue is preventing you from losing weight.
And when you activate it...
Plus you can follow really any diet you like and finally see results.
Because this reprograms your body to burn more fat regardless of what diet you're on.
Now before I explain exactly what it is, let me first explain...
How Fat Loss Is
SUPPOSED
To Work...
It's actually pretty simple…
You eat food, which contains macronutrients such as carbs, proteins, and fats. These all contain calories which your body is supposed to use for energy.
That food enters your stomach, which produces acid to break it down into tiny particles. It then passes into your intestines where it meets your gut bacteria.
Gut bacteria has become a huge topic of conversation lately…
Because doctors have discovered that the AMOUNT and TYPE of gut bacteria in your stomach have a direct correlation with so many health issues, such as…
But here's what's most shocking…
Your Gut Bacteria Directly Affect
How Easy Or Hard It Is For You To
Stay Slim And Lean...
I first discovered this truth watching a TED Talk by Rob Knight, a microbial ecologist at UC San Diego.
He was explaining how your gut bacteria controlled your response to stress, the way you digest food, inflammation, allergies, asthma, memory loss, and nearly every other bodily function.
But what truly struck me was when he said the following sentence...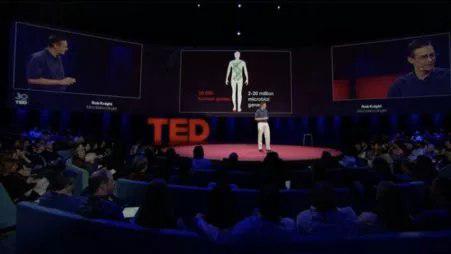 "In fact, just by looking at the microbes in your gut… scientists can tell with 90% accuracy whether you're lean or obese. Compare that to 60% if you go by DNA..."*
- Rob Knight
So what does that mean?
It means...
Your gut bacteria have 50% more impact on your weight than your GENES.
Which explains...
But here's the important point...

The Specific

TYPE

Of Gut Bacteria You Have

Makes It Either Easy… Or Nearly Impossible…


To Lose Weight
Every person on Earth has different gut bacteria...
The types and amounts of gut bacteria you have make up what's called your "microbiome".
To keep it simple, there are two main types of bacteria…
Good Bacteria

Help break down nutrients in food, regulate fat storage, control your hormones, and many other factors that keep you slim and healthy...

Bad Bacteria

Cause infections, increase sugar cravings, store fat, slow metabolism, lead to erratic hormones, and destroy your immune system...

Clearly you want more good bacteria.
But as I'll explain in a moment, that's easier said than done…
Because there are DOZENS of factors which determine what your microbiome looks like.
Including…
If you were born naturally or via c-section…




When and how often you've taken antibiotics…




Where you grew up…




How much time you spent in dirt…




Your diet throughout your childhood and into your adult life…




How often you ingest artificial sugars…




Your daily stress levels…




How much sleep you get…




And many more!
All of these factors determine how much "good" or "bad" bacteria make up your microbiome at any given time.
And if you've suffered from ANY of the following more than once in the past week...
Gas...

Bloating...

Indigestion/sour stomach...

Constipation and/or diarrhea...

Pain or cramping…

Food sensitivities…

Fatigue…

Difficulty sleeping…

Even anxiety and/or erratic moods...
It's a clear sign that your microbiome has become overrun by bad bacteria.

That's because the SAME bacteria that cause these symptoms also make it practically impossible to achieve your weight loss goals.
That's also why it's crucial that you understand...
The
THREE
Ways Bad Bacteria
Prevent You From Losing Weight
The fact is…
Bad bacteria WANT you to be fat.
That's because while good bacteria feed on healthy indigestible fibers…
Bad bacteria feed and thrive on processed foods, starches, and sugars.
So they hijack your stomach and trick your body to becoming more overweight in four different ways, including...
#1: They Cause Insatiable Cravings
As I mentioned, bad bacteria thrive on processed foods, starches, and sugars (among many other toxins).
Well these bad bacteria will do everything in their power to get more of what they want…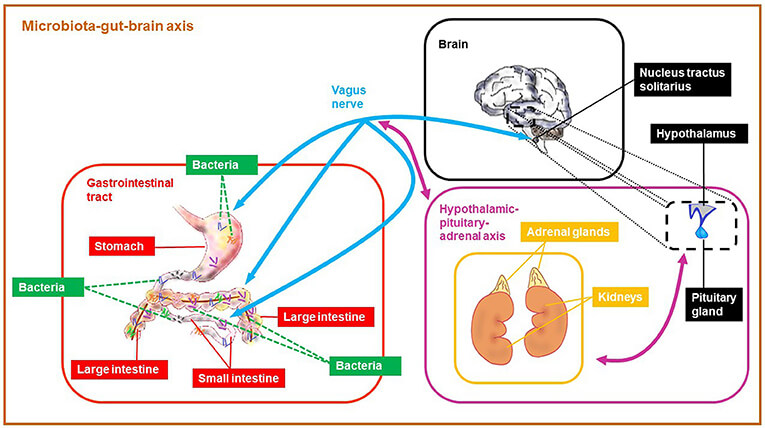 So they hijack what's called your "microbiota-gut-brain (MGB) axis.

This is a direct phone line between gut bacteria and your brain.

It uses your vagus nerve to help your bacteria speak with your brain.
THIS is what causes insatiable cravings…
The types of cravings where you literally can't stop eating even though you know you should…

Where you sit over a bowl of ice cream or a bag of chips and just keep eating, even though you're already full…
And then feel instantly guilty afterwards.
On top of that...
#2: They Absorb Extra Fat, Carbs And Calories
It's no secret that if you absorb less carbs and fat from the food you eat, you absorb less calories.
And obviously if you absorb less calories, you have an easier time managing your weight.
But what's exciting is that we now know that bad bacteria make you absorb more calories than naturally lean people.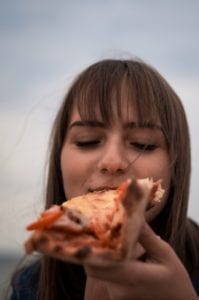 To explain, imagine you're at a party with one of your "lean" friends.
You each eat a few pieces of pizza and consume about 1,000 calories.
Depending on the types of gut bacteria you each have, you'll absorb those calories differently.

If the person with the "friendly" bacteria blocked 20% of those calories (as an example), that's 200 more calories the other person needs to burn off just to stay even.
Is it fair?
Nope.

Not at all.
But it's true.
In fact….
Another study showed that

your gut bacteria influences the amount of fat you absorb

, which may affect how much fat is stored in your body...




Other studies have shown that

if gut bacteria from obese people are put into lean mice, the mice gain weight...


Gut dysbiosis (the term for an imbalance in your gut biome, which many people with digestive issues suffer from)

can INCREASE the number of calories you absorb from food...
Even worse is the fact that...
#3: They Increase Inflammation
People suffering from inflammatory bowel diseases such as Crohn's and ulcerative colitis are far too familiar with how bad bacteria creates inflammation in the gut. Studies show that people with too much bad bacteria lack an inflammation inhibitor known as "NLR-P12".
Unfortunately inflammation also trains your body to gain weight in two different ways…
It can cause insulin resistance - It does this by impairing how insulin functions, leading to higher glucose levels and fat accumulation in your liver. This further contributes to insulin resistance. It's a dangerous and fattening cycle!


It slows your metabolism

- It does this by decreasing levels of a metabolism-regulator known as leptin.

Leptin is a key hormone which controls your hunger and your metabolism. In fact, leptin is now believed to be the leading driver of fat gain in humans. Inflammation keeps leptin levels low, which tricks your body into thinking it's starving. This forces you to eat more AND slows your metabolism.
Now please understand, I'm not saying all this to scare you…
I'm saying this so you understand exactly what's caused so much frustration in the past…
And why it's been nearly impossible to attain your ideal weight, especially as you age.
But I have good news because...